FOUR ESSENTIAL PRODUCTS FOR YOUR FREESTYLE LIBRE SENSOR AND READER
Living with diabetes isn't easy. You're always having to be careful and plan ahead. It is important for a diabetic to keep their glucose levels stable. Knowledge is power, and to measure their levels, more and more people are using the Freestyle Libre sensor. The sensor is easy to scan with the reader which displays the values. We've listed a number of essential products for your Freestyle Libre sensor and reader!
FEWER HYPOS THANKS TO THE SENSOR
Diabetic patients get a hypo when their blood sugar level is too low. This then results in fatigue, dizziness, heart palpitations and poor concentration. Compared to a finger prick, the sensor's measurement system ensures that diabetes patients experience far fewer hypos. A decrease of as much as 38% has been observed in patients with blood sugar levels that are too low, and 19% in patients with blood sugar levels that are too high. So you can definitely say that the sensor has a positive effect!
THE STICKERS TO PIMP YOUR FREESTYLE LIBRE SENSOR AND READER!
A diabetes sensor and reader have a positive effect on blood sugar levels, and are functional, but the products look a bit boring. Want to brighten up your sensor and reader? Then take a look at our wide range of sensor stickers and stickers for the Freestyle Libre reader.
The vinyl stickers are good quality, waterproof and UV resistant. In addition, the stickers have a protective film to prevent scratches. Below you can see our favorites: the Freestyle Libre sensor sticker with an army camouflage print and the sticker that will cover your reader in four-leaf clovers. Who knows, maybe this sticker will also bring you luck?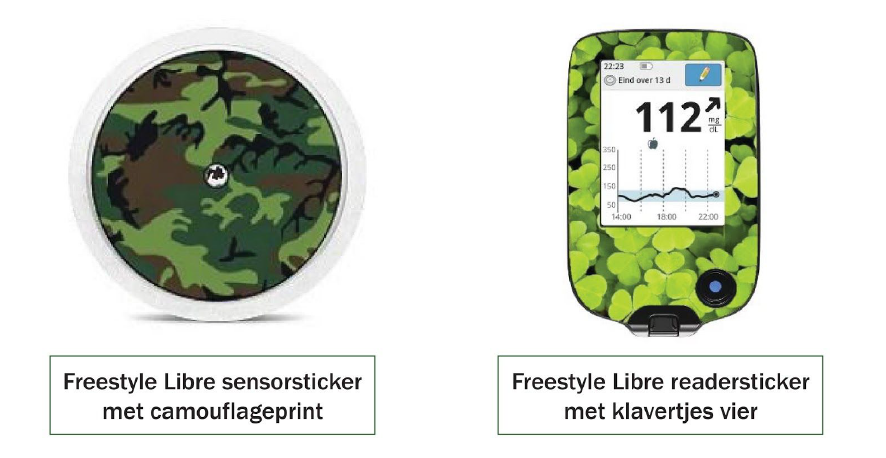 STRENGTHEN YOUR SENSOR WITH THE FREESTYLE LIBRE SENSOR HOLDER
Do you find it annoying to have to use a patch to keep your sensor in the right place? Would you prefer a bit of extra support? Then our sensor holders are the solution for you. They have an adjustable elastic band of 40 centimeters. You can also shorten the band to a length that works for you. The sensor holders are available in different colors. So there's something for everyone!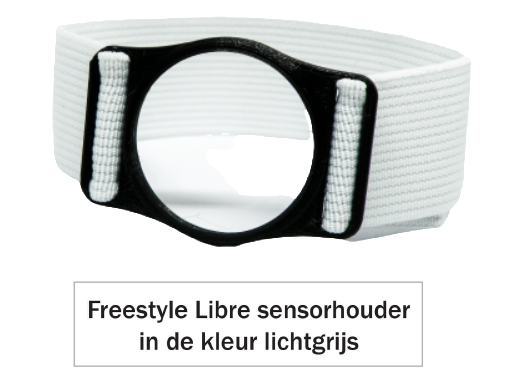 PROTECT YOUR READER WITH THE MYLIBRECOVER
Are you looking for a protective cover for your Freestyle Libre reader? Then look no further! The MyLibreCover is a high-quality and handy protective cover, made from sturdy silicone plastic. This cover protects your reader from those unexpected knocks and bumps.
The USB port and the test strip slot remain accessible. It is available in different colors, from bright pink to classic black. Which one are you going for?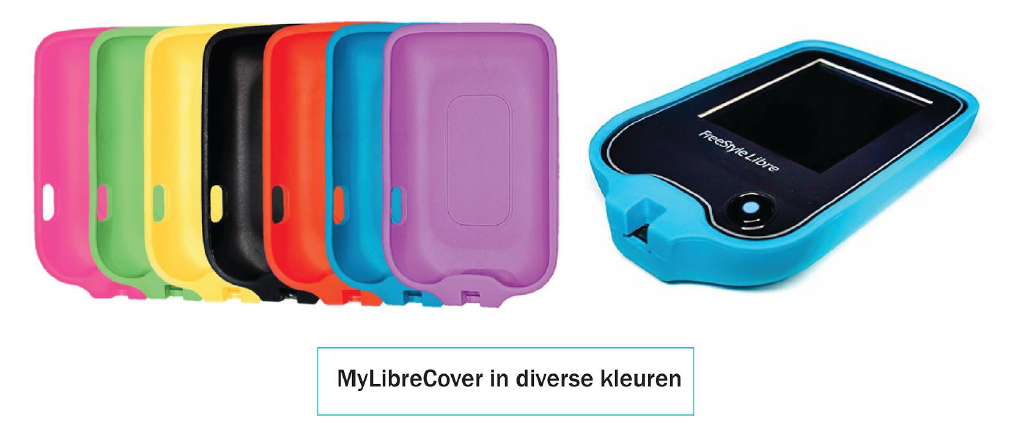 WANT TO KNOW MORE?
Do you have questions or want more information about our products or services? Just contact us – we're happy to help!