FLYING WITH DIABETES: HERE'S HOW IT'S DONE
Diabetes is with you all the time, even when you go on vacation to a warm country. Do you ever worry if you have all the necessary medication with you? Nervous about that long flight or afraid that diabetes will take over your vacation? All questions that probably go through your mind before you go on vacation. And that's very understandable! However, diabetes doesn't have to be a burden during your vacation, provided you are well prepared for your trip. Read on to find out what you should think about so that you can relax and enjoy your vacation!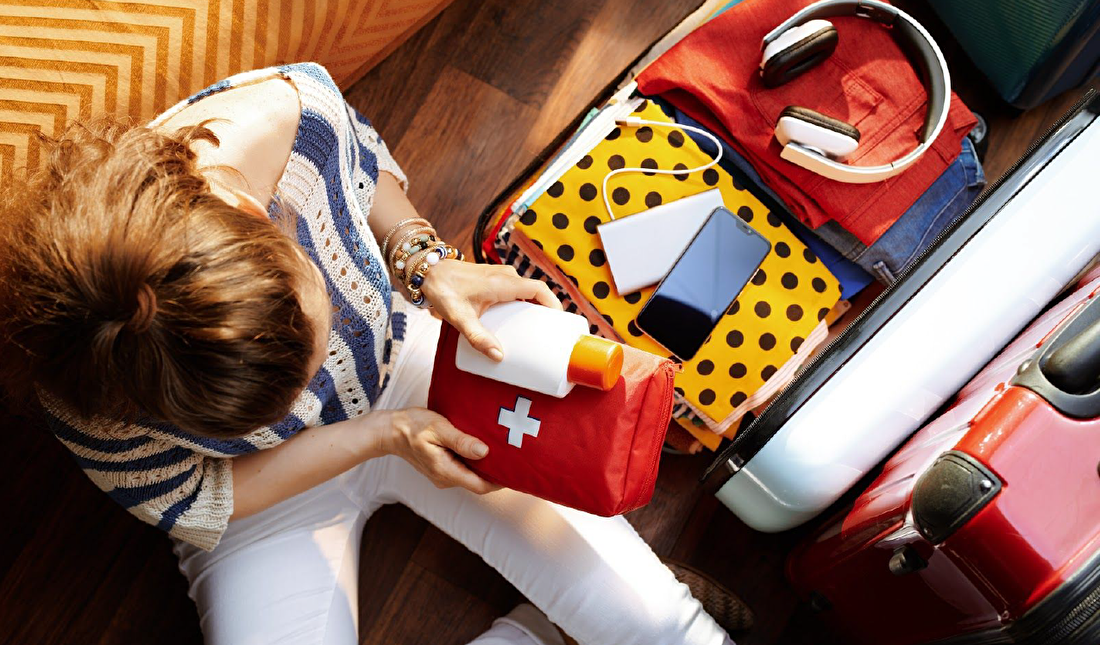 READY TO GO?
Before your vacation can really get started, there are some important things you should not forget. Request a letter from your doctor in advance. This should state that you have diabetes and use certain medications to treat it. A doctor's letter is useful if you have to go through security and if you unexpectedly need to see a doctor or get extra medication. It's also smart to bring plenty of medicine with you. Enough for your vacation, but also enough for the days after you get home. This way you won't get caught short.
Once you have everything you need, it's time to pack your suitcase and/or bag. Try to spread your medicines and other diabetes essentials over the different pieces of luggage. If you lose something or it gets stolen, then you still have reserves. When you pick up medicines at the pharmacy, your name is on the label. It's therefore not a bad idea to take the original packaging with you so that people can always see straight away that it belongs to you.
DURING THE FLIGHT
The day of departure has finally arrived and you cannot wait for the warm temperatures to hit you when you step off the plane. You're all checked in, now you just have to get through security and then you'll be on the airplane. As soon as you arrive at security, let a security officer know that you have an insulin pump, medication and/or needles in your hand luggage as these things will otherwise set off the alarms. Just ask for a normal pat-down search. If you have a sensor then you can just go straight through all the scanners in an airport!
In addition, make sure that your diabetes medication is in your hand luggage, so that you are not without medicine during your flight. A diabetes bag is useful for storing all your diabetes supplies. This way you have everything at your fingertips. Fasten your seatbelt, stow your tray table, choose a good movie and get ready for take-off!
KEEP YOURSELF (AND YOUR INSULIN) COOL IN THE HEAT
Once you have arrived at your destination, it's time for sun, sea and sand. Those summer temperatures every day are glorious, but keep in mind that your diabetes has different ideas. Warm weather conditions affect your diabetes; your metabolism can speed up and also insulin doesn't do well in high temperatures.
To keep your insulin cool, you can store it in a cooling bag. This bag will keep your insulin at a safe, cool temperature for up to 45 hours. Perfect! Those essential trips to the pool and sweat droplets mean that the patch for your sensor can come off quicker than usual. A sensor holder ensures that your sensor stays in place so you don't have to worry about it any more.
Finally, remember that your blood flow is faster than normal in a warm country, so your insulin is going to be absorbed more quickly. Measure it again before you go back into the heat. And now all that's left to do is sit back and enjoy your vacation!
DOUBLE, TRIPLE CHECK
Still want to do a double check? Then take a look at the checklist from Diabetes.co.uk. With our webshop we want to make living with diabetes that little bit easier. Do you have questions or want to know more about Diacé's products? Just contact us – we're happy to help!