WHICH DEVICES CAN HELP PEOPLE WITH DIABETES?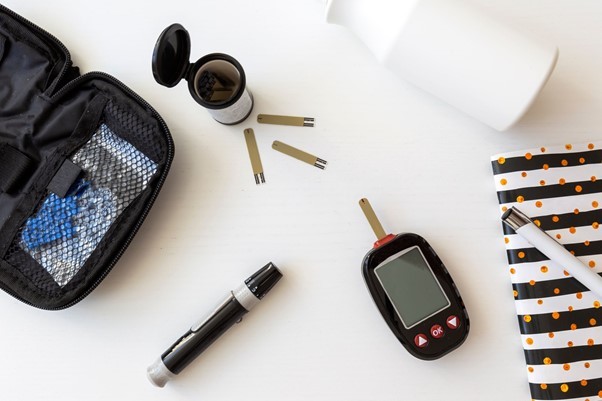 Living with diabetes comes with various challenges. You need to be constantly on guard and make sure you have the right amount of glucose in your blood. This is something you have to take into account in your everyday life, but it is especially complicated when you want to go on holiday, visit a concert, or do sports with diabetes. Fortunately, these days there are plenty of devices to help people with diabetes. This makes living with diabetes that bit easier!
THE INSULIN PUMP
An insulin pump is a small device that you wear on your body throughout the day. It is also known as a diabetes pump. The device ensures you receive insulin all day long so that your blood sugar level remains correct. The insulin pump regulates the insulin well and can observe fluctuations in the blood level better than you can with, for example, an insulin pen.
THE INSULIN PEN
With the help of an insulin pen you can inject insulin into the skin. As the name suggests, this device looks like a pen in terms of shape and size, but it has a needle at the end. This helps you set and administer the required number of units of insulin yourself by pricking the needle under your skin. There are different types of insulin pens available. For example, you can choose refillable insulin pens or disposable insulin pens.
LANCING DEVICES AND LANCETS
To keep your blood sugar level in check, it's important to keep an eye on your blood glucose levels. You can do this using a lancing device, where you insert a lancet into the lancet holder of the lancing device. You then use this to prick your fingertip, after which a drop of blood forms. Hold this drop of blood against a test strip, which you then place in a blood glucose meter. The meter then tells you your exact glucose value, so you know how much insulin you need to administer.
THE BLOOD GLUCOSE METER
You can check your blood sugar level with the help of the blood glucose meter. This is very important, because you need to be able to see exactly what your blood glucose levels are. You need a small drop of blood for this, which you can get using the lancing device and lancets mentioned above.
DIABETES DEVICES
Thankfully, there are diabetes devices available that can help you check and regulate your blood sugar levels. What's unfortunate is that these devices are far from attractive, and they also aren't very practical to carry around with you.
DIACE DIABETES ACCESSORIES
This is why we started Diacé: the one-stop-shop for diabetes accessories. Our accessories have been created to make using these devices more fun and practical. Think of handy pump bags that make it easy to take your insulin pump with you on holiday. Or our diabetes sensor holders to make your sensor feel more secure. Need to brighten up your sensor or reader? Then take a look at our diabetes sensor stickers!
WANT TO KNOW MORE?
Do you have questions about our devices or diabetes accessories? Just contact us. Our own experience with diabetes means we're in a good position to help.